Published May 29, 2015
The 2016 Audi Q7 is a Luxurious Haven for up to 7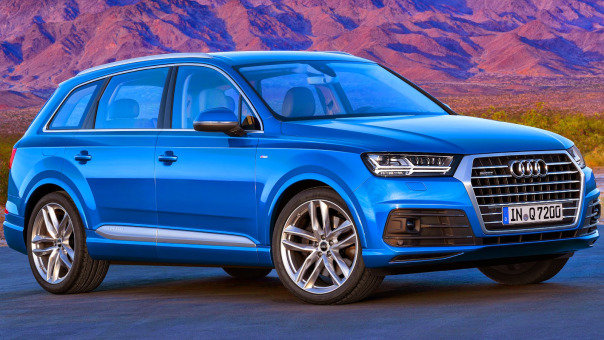 The 2016 Audi Q7 is a luxurious SUV that's designed primarily to transport up to seven people comfortably.
The 2016 Audi Q7 is a luxurious haven up to 7
The 2016 Audi Q7 is a luxurious SUV that's designed primarily to transport up to seven people comfortably. It has a pretty compact design for being able to hold so many people, and it's got all the comforts that you would expect from a luxury SUV but are they enough to make up for some performance disparities between the Q7 and other more rugged vehicles on the market? That's hard to say without knowing what kind of driver you are, only you can make the decision.
Engines
The Audi Q7 comes with three different engine options to pick from, two different gas and one diesel. The gas engines are a 2.0 liter four-cylinder engine that's been turbocharged to 252 HP and 273 lb.-ft. of torque and a 3.0 liter supercharged V6 with 333 HP and 325 lb.-ft. of torque. The diesel engine is a turbodiesel V6 that provides 272 HP and 443 lb.-ft. of torque. The turbodiesel and V6 gas engine have similar performance levels and very close acceleration rates with the gas engine being slightly faster.
Each of the engines comes mated to an eight speed automatic transmission that's known for smooth shifts. They can be closely controlled with a set of paddle shifters, and each variation also comes with a highly capable all-wheel drive setup for inclement driving conditions.
Performance
The Audi Q7 doesn't feel like a sports car behind the wheel and instead is a smooth cruiser. Climb behind into the driver's seat and you'll rarely notice any of the bumps or imperfections on the road you're travelling over. The experience is improved even further if you decide to get the optional adaptive air-suspension.
Interior
The interior of the Q7 is well-appointed, with buttery leathers and classy accents throughout. It's actually a bit more spacious than it is in the outgoing model and will accommodate between five and seven passengers comfortably. There are plenty of gadgets for every passenger to enjoy, and there are even some advanced automated systems that can be added in at a cost for less driving responsibility and enhanced safety.
The vehicle comes with an automatic four-zone climate control system to keep everyone comfortable throughout the trip. It also has the quality MMI multimedia system that will sync with mobile devices. The latest Q7 also comes with Audi Virtual Cockpit that allows you to toggle between a large instrument display or a massive navigation map to help you figure out where to go.
If you want a powerhouse to tow with or you just like going fast the Audi Q7 probably isn't the right vehicle for you. It's not that it's slow, but it certainly isn't performance fast. The same goes for off-road handling. You can drive through poor weather conditions with confidence, but the Q7 really doesn't have the clearance or the features to handle any serious off-roading. With a focus on comfort and interior space Audi Q7 fans can really enjoy what the vehicle has to offer.