Published May 11, 2016
2016 Audi S8 Plus: Increased Luxury and Power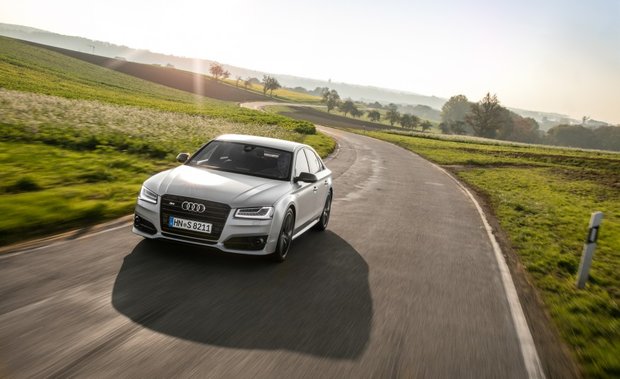 The 2016 Audi S8 Plus produces a whopping 605 horsepower and 516 lb-ft of torque.
As if the Audi S8 weren't grand enough in size, performance, and style, the Germans have gone and upped the ante with the brand new 2016 Audi S8 Plus that takes the grand saloon to a whole new level of greatness in both design and engineering.
The Best in the Industry -- Now Even Better
What exactly have the genius engineers from Audi headquarters done to the S8 to make it an S8 Plus? For starters, they managed to increase power from the twin-turbocharged 4.0L TFSI mill. Yes, you read that correctly. The 2016 Audi S8 Plus produces a whopping 605 horsepower and 516 lb-ft of torque. That's 85 more ponies over the non-Plus S8, and means this large sedan will hit the 100km/h mark from a standstill in just 3.8 seconds.
Take that all in for a second.
Through skillful manipulation of the turbochargers, as well as modified exhaust valves and engine management, Audi's squeezed every last ounce of performance out of the S8 Plus, much to everyone's delight. This is the quickest Audi S model ever, and also the fastest S8.
Really, is there more you need to know about this savagely quick yet sophisticated and sexy ride?
Well, of course, there's the exterior design that's classically Audi: prestigious, classy and well-tailored, inside and out. The signature linear grille, along with distinctive standard LED headlights give the Audi S8 Plus that instantly recognizable front mug, and one that's sure to age with style and grace for years to come.
Step inside the 2016 Audi S8 Plus and you're met with the same prestige and precision as with the exterior design: available black full-grain leather with Arras Red contrast stitching and piping on supportive, bolstered sport seats give the S8 Plus a distinctive look that's both fashionable and comfortable. Really, the S8 Plus combines the best of both worlds.
Of course, the 2016 Audi S8 Plus is equipped with the German manufacturer's renowned Quattro all-wheel drive system for maximum traction and performance on any road surface and in any weather conditions.
Features Galore
Not only is the S8 Plus quick on the road, it's also equipped with amenities such as Night Vision assist that's an added safety feature for night and evening drives when visibility is highly reduced, along with a host of other safety features such as blind-spot monitoring. Along with that, the S8 Plus also features rear seat entertainment, as well as a Bang & Olufsen sound system.
To find out more about the new 2016 Audi S8 Plus and all it has to offer, head down to your local Glenmore Audi dealer to speak to one of our experts, and don't forget to book a test drive, too.