Published December 31, 2016
2017 Audi S3 : powerful value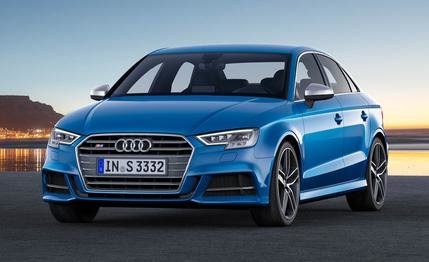 Audi S models have always stood out in the performance department, but unlike their main competitors, they do not screen to the world just how fast they actually are. For many buyers who want to enjoy their vehicle but not show it off to the world, that's a strong selling point. Models like the 2017 Audi S3 are refined and elegant despite being deceptively quick and grin-inducing.
The 2017 Audi S3 is fast. Very fast in fact.
Think 0-100 km/h in less than 5.0 seconds. That's what you get from the 2017 Audi S3's 2.0-liter turbocharged four-cylinder engine that produces 292 horsepower and 280 lb-ft of torque at just 1,900 rpm. Power is obviously sent to all four wheels thanks to Audi's Quattro system, one of the most efficient in the world at maintaining stability and control in the toughest of road conditions.
So, with the 2017 Audi S3, you get an entry-level rocket that will push you back in your seat at the slightest nudge of the right pedal, all for a starting price of $46,600. Power comes on smoothly, never rough, thanks to Audi's S Tronic dual-clutch automatic transmission. Ask any automotive expert, they will tell you that the S Tronic gearbox is one of the best in the world, so it is only natural that it be paired with the best all-wheel drive system in the world.
Plenty of bang for your buck in the 2017 Audi S3 in Calgary
To go along with the incredible performance, Audi S3 owners get a host of safety and tech features, like the 12.3-inch Virtual Cockpit Display behind the steering wheel. It's hard to explain this screen in words, but let's just say that it absolutely stunning, and certainly not something you would expect to find on a vehicle that costs less than $100,000, let alone less than $50,000. You also get leather seats, a sunroof, a rear-view camera, dual-zone climate controls, a leather-covered steering wheel with a flat bottom that reminds you that you are in a rather fast car, and plenty of other features as well.
But you really get with the 2017 Audi S3 is the best value for your buck if you are looking for a car that can kick your adrenaline up a notch without emptying your savings account. The S3 is not just fast in a straight line either. It is connected to the road, and it shares what is happening with the driver. There is a lot of tech in the S3, but not so much so that you feel that the car is driving you.
To learn more about the 2017 Audi S3, contact us today at Glenmore Audi in Calgary, Alberta!