Published May 21, 2019
2019 Audi A6 vs 2019 BMW 5-Series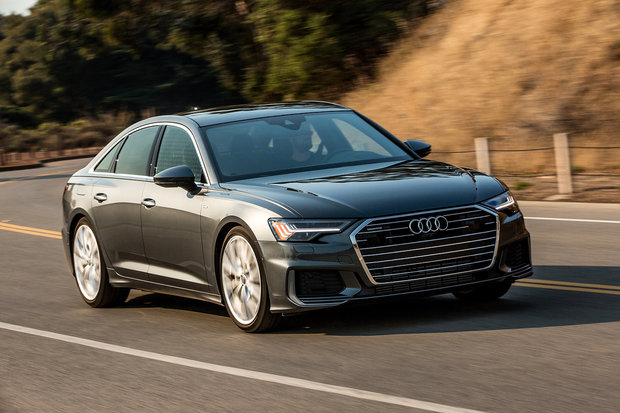 The Audi A6 is the hidden gem of the mid-size luxury sedan segment, and its complete redesign this year give it a definite advantage over some of its established competition including the BMW 5-Series. The 2019 Audi A6 is now one of the most luxurious and refined models in its class. It is spectacular in its design both inside and out, but also in its refinement. Although the 2019 A6 and the 2019 BMW 5-Series share the same segment and relatively similar pricing, the A6 will provide its owners with a unique experience that feels more exclusive than the more common and older BMW 5-Series.
"More common" and "older" may make it seem like we are degrading the BMW mid-size luxury sedan, but that's not the point of this comparison. The point is to compare one completely redesigned model with another that was introduced over two years ago. Naturally, the more modern model will feel more luxurious, have more technology, and will feel more up-to-date. That said, the Audi A6 has a little something extra to offer.
A Perfect Balance of Everything in the 2019 Audi A6
The 2019 Audi A6 has one of the most impressive interiors you will ever find in a luxury vehicle, any luxury vehicle. Sitting inside the A6 is a remarkable experience where technology, comfort, the finest materials and a logic design all blend together to form an environment you will want to spend time in. Comparing two quality models like the BMW 5-Series and the Audi A6 means having to dive into the details to figure out which models will ensure our satisfaction. It's not about spec comparisons as it is about personality comparisons and determine which of these vehicles' personalities fit our own personality.
The A6 being more modern has more features, but the interior layout both upscale and ergonomic is what sets it apart. The BMW 5-Series feels like a luxury mid-size luxury sedan, but there's a noticeable different between it and, say, a 7-Series. The Audi A6 takes many of the components of the more expensive and luxurious Audi A8. You will feel like you're in the most luxurious Audi model in the A6.
You also get a bit more power out of the base engine. With 340 horsepower and 369 pound-feet of torque, the new 2019 Audi A6 has more torque than the base BMW 5-Series as well as the BMW 540i mid-level version. Right out of the gate it feels faster and more powerful.
Contact us today to learn more about the completely redesigned Audi A6 at Glenmore Audi.