Published April 29, 2019
2019 Audi RS5/S5: The Beast, the Legend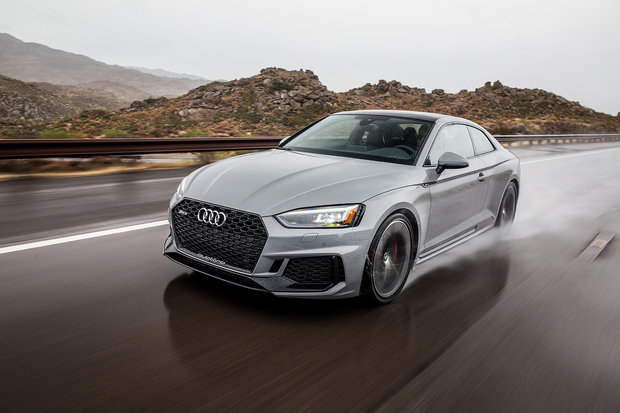 If you ever wanted to have a track-capable demon parked inconspicuously in your driveway to take you to work Monday-to-Friday and your kids to soccer on the weekends, then Audi has just the vehicle for you.
The 2019 Audi S5 or RS5 are track-worthy cars that are just as at home on the freeway cruising under the limit as they are at redline on a track. Well-built, capable, safe, and a blast to drive in both dry and wintery conditions (thanks to Quattro), the Audi S5/RS5 models are rebels in disguise if ever there were any in the auto industry.
All this talk of track driving, let's get straight to the heart of the matter: the Audi S5 is equipped with a 3.0L V6 with a single turbo, while the RS5 is equipped with a 2.9L twin-turbo V6, and pushes out 444 horsepower and 443 lb-ft of torque, all paired with an 8-speed StepTronic automatic transmission, and of course Audi's Quattro all-wheel drive.
Now, before you lament the lose of the naturally aspirated 5.0L V8, consider this: the V6 has made a massive jump in torque going from the V8's 317 lb-ft up to 443. You'll definitely feel that in the pit of your stomach upon acceleration.
The 2019 Audi RS5 also features a mechanical centre differential to split the torque 40:60 between front and rear axels. This makes the RS5 a rear-wheel drive bias set-up most of the time, unless it detects slippage, in which case it will send up to 85% grip to the front and 70% to the rear.
A permanent sport suspension elevates the 2019 Audi RS5's handling, and this sexy sedan will hit the 100km/hr mark from a standstill in just 4 seconds.
Inside the 2019 Audi RS5, you'll find RS sport seats, an RS gauge cluster, optional diamond-quilted seats and a host of RS logos throughout. And the 2019 Audi S5 is no slouch inside either, featuring all the amenities you've come to know and love from Audi, including the available digital gauge cluster.
To find out more about the 2019 Audi S5 and RS5 models, head down to your local Audi Glenmore dealer to speak to one of our experts, and don't forget to book a test drive.