Published April 29, 2018
2019 Audi RS5 Sportback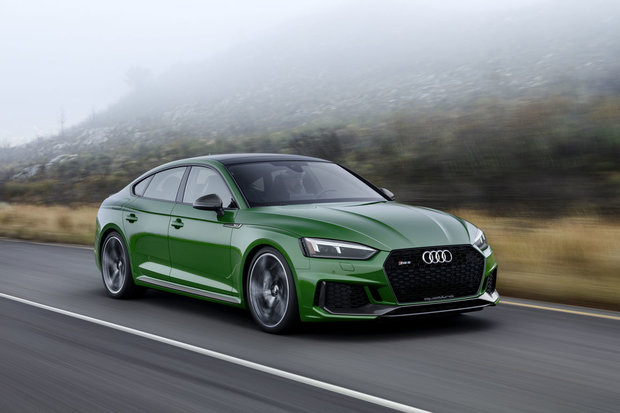 While we were introduced to the all-new Audi A5 lineup a little over a year ago, which included a coupe, convertible and the brand new sportback body styles, the coveted RS5 took a little longer to appear. But that appearance took place just last month at the New York International Auto Show where the 2019 Audi RS5 Sportback finally made its debut.
While there is, of course, the coupe version we've all come to know and love, the star of the show really was the RS5 Sportback. This new body style is not only attractive but also highly practical offering up easier rear-seat access to passenger, and a much larger trunk space.
And while the silhouette may be different on the 2019 Audi RS5 Sportback, the power beneath that muscular hood isn't (when compared to the coupe). While the S5 holds a 3.0L V6 with a single turb, the RS5 is equipped with a 2.9L twin-turbo V6, and pushes out 444 horsepower and 443 lb-ft of torque, all paired with an 8-speed StepTronic automatic transmission, and of course Audi's Quattro all-wheel drive.
Despite that, the RS5 Sportback features a mechanical centre differential that will split the torque 40:60 between front and rear axels, make it a rear-wheel drive bias set-up most of the time, unless it detects slippage in which case it can send up to 85% to the front and 70% to the rear.
This particular set-up ensures the 2019 Audi RS5 Sportback remains sporty in its driving dynamics and performance. A permanent sport suspension elevates the RS5's handling, and this sexy sportback sedan will hit the 100km/hr mark from a standstill in just 4 seconds.
And while the engine is smaller than the previous generation (V6 vs V8), Audi managed to save 68lbs of weight by reducing the engine mass, while also increasing torque to ensure the 0-100 sprint is even more exhilarating.
Inside the 2019 Audi RS5 Sportback, you'll find RS sport seats, RS gauge cluster, optional diamond-quilted seats and a host of RS logos throughout.
To find out more about the all-new 2019 Audi RS5 Sportback before it hits dealers later this year, head down to your local Audi Glenmore dealer to speak to one of our experts, and don't forget to book a test drive.