Published June 19, 2019
2020 Audi Q5 TSFIe Quattro Plug-In Hybrid: Audi Adds Another Electric Powertrain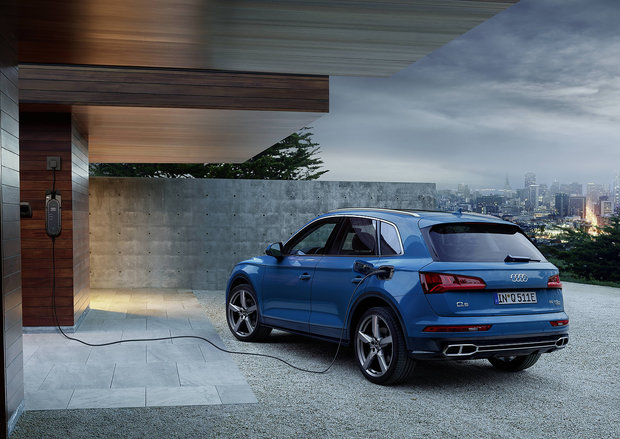 As the automotive world steadily makes the transition from traditional combustion engines to all-electric and hybrid only, Audi has made a commitment to release more vehicles like its e-tron lineup. This time, the 2020 Audi Q5 TFSIe Quattro combines the best of both worlds.
Unlike the e-tron models, the Q5 TFSIe Quattro features a combustion engine – the 2.0L turbocharged 4-cylinder engine – that produces 248 horsepower and 273 lb-ft of torque. This is then combined with an electric motor that produces the equivalent of 141 horsepower and 258 lb-ft of torque. Combine those two together and Audi claims the 2020 Q5 TFSIe Quattro can produce a combined power rating of 362 horsepower and 369 lb-ft of torque. Which also means it can hit the 100km/hr mark in just 5.3 seconds. Oh, and all that glorious electrically boosted power is controlled via Audi's 7-speed S tronic automatic gearbox.
Now, hybrids and EVs are all about the range numbers and fuel efficiency right? So, Audi was sure to make the 2020 Q5 TFSIe Quattro as practical as you'd imagine an Audi to be. They claim the new PHEV crossover will do 2.1L/100km in terms of fuel efficiency, and with a full charge on the electric motor, it can travel 40km in fully electric mode.
When it comes to charging that 14.1kWh lithium ion battery in the 2020 Audi Q5 TFSIe Quattro, on a standard wall socket it will take up to six hours to charge fully. However, with a 400 V that charge time diminishes to just 2.5 hours.
As you'd imagine, the Quattro naming means the Q5 TFSIe Quattro comes equipped with Audi's renowned all-wheel drive system. And it does. However, the system in the 2020 Audi Q5 TFSIe Quattro is a bit different in order to help with fuel efficiency and electric range. The Quattro system works with electric sensors to keep the vehicle in AWD mode only when absolutely needed. Otherwise, the Q5 TFSIe Quattro performs like a FWD crossover, to help keep those fuel efficiency numbers in top spot.
To find out more about the all-new 2020 Audi Q5 TFSIe Quattro, head down to your local Glenmore Audi to speak to one of our experts about the new model and about when it's set to hit North American shores (because it's already on sale in Europe, but you can reserve yours today!).