Published September 30, 2017
700 horsepower and a hybrid engine for the next Audi RS7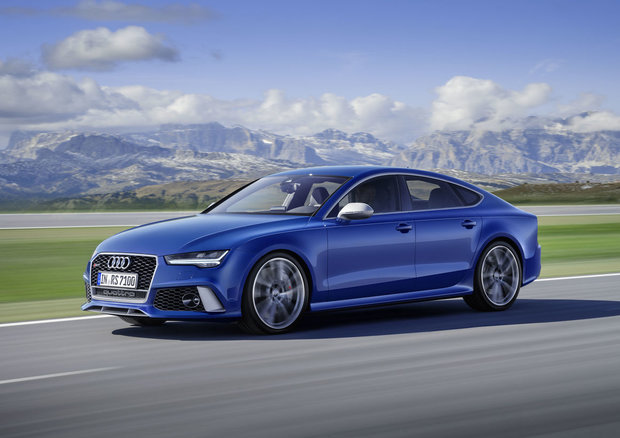 Audi's new vehicle lineup is continually being updated, redesigned, and improved. After having introduced new generations of the Audi A4, Audi A5, Audi Q5, and Audi Q7 to name a few last year, Audi is now hard at work on the next Audi A7. At the top of the A7's family tree will sit the Audi RS7.
If we are to believe early rumors, it would appear that the German manufacturer has a surprise in store for us when it comes to the next-generation RS7.
A 700-horsepower hybrid engine in the next Audi RS7
In an interview with Evo magazine, Audi design director Marc Lichte hinted at the beast of an engine that may power the next Audi RS7. In actuality, there will be two available powertrains according to Mr. Licthe. The first will be a 4.0-liter twin-turbo V8 engine that will develop 650 horsepower while the second will be a hybrid engine that will boost power to 700 horses.
The hybrid model will use the 4.0-liter biturbo V8, but it will paired with an electric engine which explains the 50 extra horsepower. The technology found under the hood of the new RS7 hybrid won't be too far off what Porsche currently offers in its Panamera Turbo S e-Hybrid flagship model.
As we wait for the next Audi RS7 which should be unveiled before the end of the year, buyers can still turn to the current model which is available starting at $ 120,900.
The current 2018 Audi RS7 has all the power you could ever need
There are two versions of the current Audi RS7 available to consumers. The first features 560 horsepower and 516 pound-feet of torque and can get you to 100 km/h in just 3.9 seconds while the second is the Audi RS7 Performance available at just over $ 143,000.
Thanks to an upgraded engine, the RS7 Performance can reach 100 km/h in 3.7 seconds, and 200 km/h in just 8.4 seconds. There's also an overboost function that will give you 553 pound-feet of torque for a short period of time in order to exit a corner with authority or pass other vehicles with supreme confidence.
To learn more about the 2018 Audi RS7, contact us today at Glenmore Audi!