Published June 10, 2019
A Look At Audi's Convertible Lineup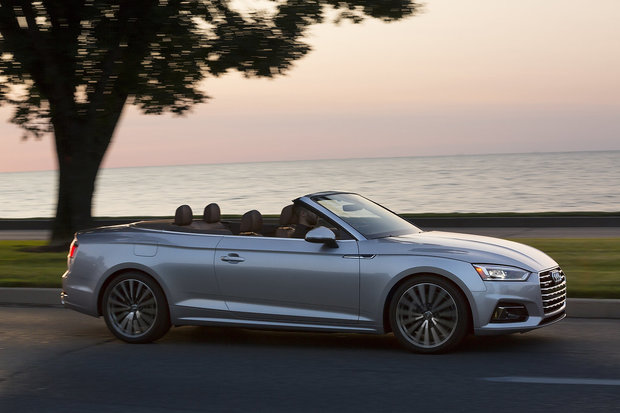 Ah yes, summer has finally arrived! Now that the sun is out, it's a shame to be trapped in your car all day without any access to the brightness and warmth we've been lacking all winter! So, it stands to reason that now is the very best time to head down to Audi and check out their varied lineup of convertibles currently available.
2019 Audi A3 Cabriolet
Sometimes, all you want is to be able to drop the top when the sun is high and the temperature climbs, but you don't want to sacrifice anything else that generally comes with owning a convertible. That's where the 2019 Audi A3 comes in. With room for 5, and a 280 litre trunk, the A3 Cabriolet compromises nothing. In fact, it simply elevates the drive with the top down, especially with the turbocharged 2.0L 4-cylinder that produces 228 horsepower and 258 lb-ft of torque, all controlled via a 7-speed S tronic transmission that gives the A3 Cabriolet it's sporty feel.
2019 Audi A5 Cabriolet
There's something to be said for a two-door that has the interior space of a four-door; and that's the 2019 Audi A5 Cabriolet. With plenty of space in the front and the back, the A5 offers coupe silhouettes without the compromise – oh and did we forget to mention that Quattro capability, too? Like the Audi A3, the A5 is equipped with a turbocharged 2.0L 4-cylinder, however, it's been tweaked to produce a little bit more power at 248 ponies and 273 lb-ft of torque, and that power is also handled with the same 7-speed S tronic transmission.
2019 Audi TT Roadster
Now, for those who are just looking for that weekend cruiser when the sun is high and the sky is blue, the 2019 Audi TT Roadster is the answer. Fun should be in the car's name somewhere, because the little two-seater really is gobs of entertainment. With only two seats, the Audi TT isn't exactly a family car, but then it's not meant to be. This car is all about enteraintment in the sunshine. And even though it has the same engine and power output as the Audi A3, trust us, it'll feel faster.
To find out more about Audi's awesome convertible lineup, head down to your local Glenmore Audi to speak to one of our experts, and don't forget to test drive one (or all!) of the convertible models in the Audi lineup, just so you make sure you make the perfect decision for your summer driving needs.