Published March 29, 2019
Audi celebrates flagship R8 with Decennium model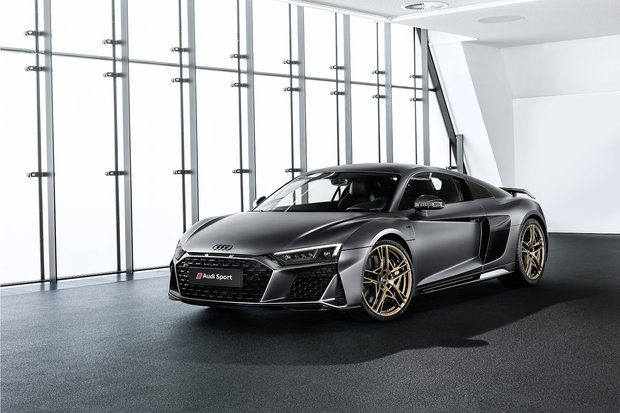 The Audi R8 has always been a very unique flagship model for the Audi brand. In some ways, it's not that exotic, and in others, it's right up there with the likes of Ferrari, Lamborghini, McLaren, and Aston Martin.
For starters, the Audi R8 turns heads like any model of the four brands we just mentioned. Drive it down the street and notice how everyone will stop and pause, often taking a picture of your vehicle. Go to your local gas station in your R8, and you won't have to wait very long before someone comes over to ask you about the beauty that sits before them.
Push the big red button on the R8's steering wheel and bring its massive V10 engine to life, and you will hear the exhaust explosion that characterizes any exclusive Italian supercar. Except the R8, for all of its power and all of its exclusivity, is more affordable and accessible than any Lambo, 'Rrari, McLaren or Aston.
Thanks to Quattro all-wheel drive, you can drive it all year round all over Calgary and not have to worry about snow or ice either. As we said, the Audi R8 is a very unique vehicle. And then there is the V10 engine.
You won't find a more affordable car with 10 cylinders. You won't really find any 10-cylinder cars anymore. They have become a rare find, and that means that when you buy an Audi R8, you are really buying something exclusive. Audi wanted to celebrate that fact with the new R8 Decennium edition.
The Audi R8 Decennium is powered by a 5.2-liter, 10-cylinder V10 engine that delivers 611 horsepower and 417 pound-feet of torque. It marks the 10 year anniversary of the Audi R8 V10 which was introduced in 2009 with 525 horsepower and 391 pound-feet of torque.
The Audi R8 Decennium gets noticed immediately thanks to its copper wheels and trims, carbon fiber aero package, and "Decennium" puddle lights at night. A Daytona Gray paint scheme is standard, but six other colors are available.
If you would like to know more about the all-new Audi R8, contact us today at Glenmore Audi!