Published February 27, 2019
Audi is going big with new line of PHEV models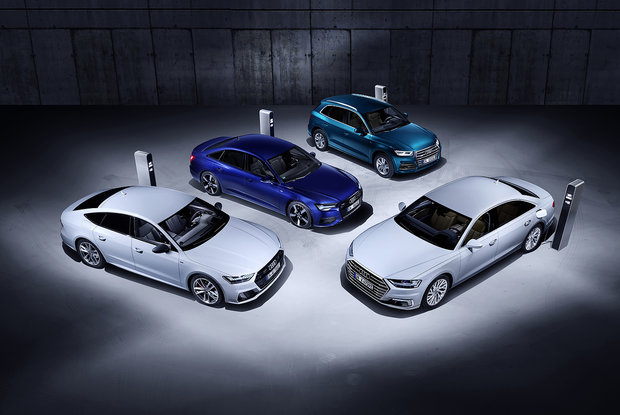 Audi is betting big on plug-in hybrid vehicles with a new line of PHEV models set to debut at the Geneva Auto Show. Called TFSI e, the plug-in hybrid technology will be featured on the A6, A7, A8 and Audi Q5 compact sport utility vehicle.
The TFSI e nameplate will designate PHEV models while e-tron will continue to be used for electric vehicles. The Audi A6, A7, and Q5 PHEV models will offer two versions with one focused on comfort while the other dials up the sportiness. The A8 PHEV or TSFI e will only come with the long wheelbase.
A 14.1-kWh battery is at the heart of each model and provides over 40 kilometers of all-electric range. The Audi A8 L 60 TSFI e gets a 3.0-liter V6 engine with an electric motor and an 8-speed automatic to produced 443 horsepower and 516 pound-feet of torque.
The Audi A6, A7 and Q5 PHEV are first offered in 50 TFSI e guide with 295 horsepower and 332 pound-feet of torque with the electric motor located in their respective dual-clutch automatic gearboxes. These are the more comfort-oriented versions.
If you want a bit more power, you will go with the Audi 55 TSFI e engine which cranks the power up to 363 horsepower and 369 pound-feet of torque. These models also get the S-Line accessories that include black wheels, red brake calipers, and a sportier suspension.
Various driving modes will provide a range of options to the driver. Modes include Comfort, Efficiency, Auto and Dynamic along with EV which uses just the electric motor. Auto mode allows the driver to use just the electric power of the battery until the latter runs out of juice. The internal combustion engine then takes over.
Like in the Audi e-tron, the PHEV models will include an active accelerator pedal which provides haptic feedback for more efficient driving and a nav system that can predict where you should drive to get the most out of your plug-in hybrid's batteries. A 7.2-kW charger will be used to recharge the battery.
As we wait for more information on the new Audi PHEV lineup, contact us today at Glenmore Audi and discover the new e-tron, or the redesigned Audi A4 and A5.