Published March 29, 2017
Audi Q8 Sport Concept: powerful and efficient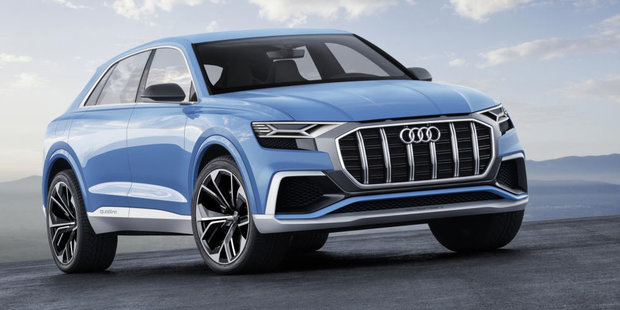 The Audi Q8 Sport Concept unveiled at the Geneva Auto Show earlier this month may very well be a sign of things to come in Audi's sport utility vehicle lineup. And if that's the case, luxury SUV buyers are certainly in for a treat. Featuring a sleek design and very advanced technology, the Audi Q8 Sport Concept was one of the stars in Geneva this year.
A sportier design for the Q8 Sport Concept
Audi has been hinting at the possibility of introducing a Coupe sport utility vehicle to its lineup for a while now. Based on the Q7 and featuring roughly the same dimensions, the Q8 would compete with the BMW X6 and Mercedes-Benz GLE Coupe. Although officially a concept, the Q8 Sport unveiled in Geneva certainly doesn't seem too far off from a production model.
Its design is impressive, and many felt it was one of the most beautiful vehicles on the floor at the Geneva Auto Show. Moreover, the Q8 Sport Concept is an evolution rather than a revolution of Audi's current design language both inside and out, and the model could very well preview where Audi is going in terms of general design in the next few years.
A hybrid engine for the Audi Q8 Sport Concept
The Q8 Sport Concept's design is certainly breathtaking, but it's not the model's most impressive feature. That would be its engine which showcases a mix of performance and efficiency that would be difficult for competitors to match should the Q8 make its way to the market with the concept's drivetrain.
It all starts with a twin-turbo 3.0-liter V6 engine that would be plenty powerful on its own. Audi engineers nevertheless decided to pair it with an electric engine which gets its power from a 0.9 kWh lithium-ion battery. The latter is equipped with a unique feature that allows it to crawl through traffic without having to switch on the gas-powered engine. Audi claims that the new Audi Q8 Sport Concept has almost more than 1000 kilometers of range despite the fact that it produces 469 horsepower and 516 lb.-ft. of torque. Audi didn't say anything about fuel economy numbers, but did say that its fuel consumption rating would be similar to a four-cylinder engine even if the Q8 Sport Concept can hit 100 km/h in less than 5.0 seconds.
There's no question that there are a lot of consumers out there who would love to get their hands on an Audi Q8 Sport Concept. Hopefully, Audi decides to bring on the market sometime soon. In the meantime, contact us today at Glenmore Audi to learn more about our complete lineup of new Audi sport utility vehicles!