Published April 28, 2019
Brand-new 2019 Audi TT RS Unveiled at New York Auto Show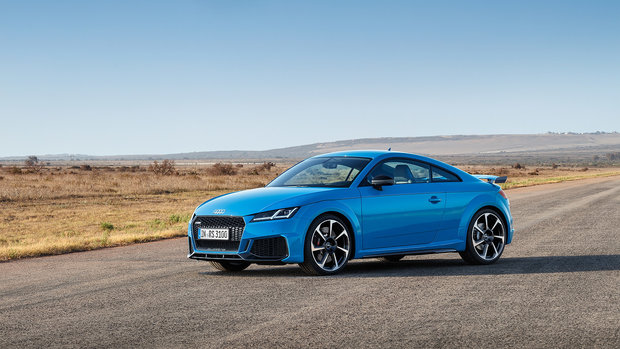 The brand-new 2019 Audi TT RS was one of the stars of the recent New York Auto Show and certainly one of the highlights of the 2019 show in the Big Apple. The TT RS is not only one of the most powerful cars in its segment and in the Audi lineup, it's actually one of the fastest cars in the world. The brand-new Audi TT RS takes everything we love about the Audi TT RS and ups it a notch.
A redesigned front fascia is your first clue that the redesigned 2019 Audi TT RS is new. It doesn't revolutionize the design of the car, but it does make it noticeable and the new model easy to spot. New technology can also be found in the 2019 TT RS include the Audi Phone box which provides wireless charging capability for your mobile phones. There's also Apple CarPlay and Google Android Auto and a Bang & Olufsen premium audio system.
The heart of the 2019 Audi TT RS is the turbocharged five-cylinder 2.5-liter engine that provides a unique driving experience and more importantly, a very unique sound. The brand-new 2019 Audi TT RS puts 394 horsepower and 354 pound-feet of torque to the road through Audi's Quattro all-wheel drive system. Thanks to its unique 1-2-3-4-5 ignition sequence, the TT RS delivers a unique sound that you won't find on any other vehicle in the world, exotic vehicles included. Capable of reaching 100 km/h in under 4.0 seconds, the Audi TT RS offers one of the best price to performance ratios in the world.
The Audi TT RS' Quattro system is tuned for optimal performance and manages to send up to 100 percent of the available torque to the rear wheels when needed to ensure optimal grip in any situation.
To learn more about the new 2019 Audi TT RS, contact us today at Glenmore Audi!