Published June 28, 2019
Everything You Need to Know: 2019 Audi Q7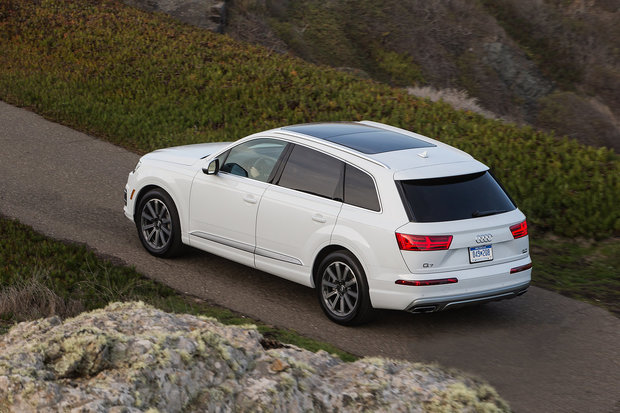 The short answer to everything you need to know about the 2019 Audi Q7? It might just be the perfect balance of refinement, luxury and performance in a crossover today. Of course, we should elaborate on why that's the case, but you really should take our word for it. The all-new 2019 Audi Q7 is balanced in every sense of the word; and just look at it.
Let's start with power, shall we? The 2019 Audi Q7 offers two engine choices: a base 2.0L turbocharged 4-cylinder that produces 248 horsepower and 273 lb-ft of torque. Then there's the optional 3.0L 6-cylinder that pushes out 329 horsepower and 325 lb-ft of torque. Both engines are paired with an 8-speed automatic transmission. Of course, AWD is standard with Audi's renowned Quattro system. And if you thought the Audi Q7 was just a pretty face, think again; the 2019 Q7 can tow up to 7,700 lbs, as well.
And if we're on the subject of a pretty face, the 2019 Audi Q7 sure has one. Now sporting a whole new look from nose to tail, the Q7 is no longer a bulbous brute of an SUV, but has instead seemingly gone on a diet and is now toned and trim and much more angular in all the best ways. Modern and futuristic.
Step inside the 2019 Audi Q7 and that modernism and beauty continues with typical Audi fare, that includes the stunning Virtual Cockpit behind the steering wheel – replacing all gauges with a 12.3" colour TFT screen. The standard infotainment system uses a 10-speaker system and includes Apple CarPlay and Android Auto as standard. Upgrade the sound system to include a 19-speaker, 15-channel amplifier 558-watt Bose system for all the audiophiles out there.
It's not just about looks and power with the 2019 Audi Q7, it's also about safety. Standard safety features include front and rearview cameras, front collision detection, and blind spot warning. Optional safety features include adaptive cruise control with traffic jam assist and heads-up navigation, as well as active lane keep assist.
To find out our more about the 2019 Audi Q7, head down to your local Glenmore Audi to speak to one of our experts, and don't forget to book a test drive, too.