Published May 28, 2019
Everything You Need to Know About: 2019 Audi Q8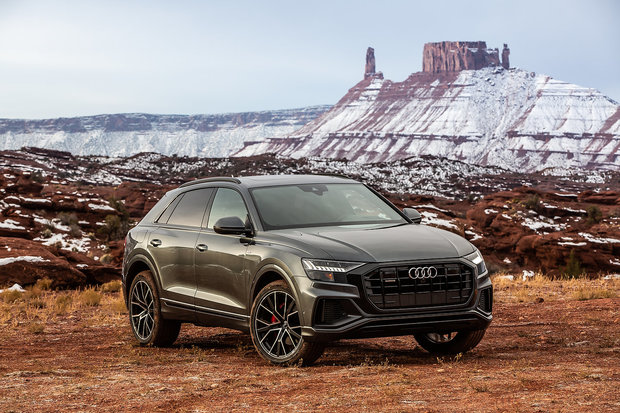 Audi is all about impressions and making the very best ones, regardless if that's with a sedan, coupe or larger than life SUV. And that's where the all-new 2019 Audi Q8 comes into the picture, as Audi's flagship SUV and the biggest in their lineup.
For starters, the 2019 Audi Q8 is all new. Before this model year it did not exist and is considered a crossover coupe because of the body style it sports – this is also the first crossover coupe for the German automaker. The Q8 was bred under Audi's new head of design, Marc Lichte, and introduces a fresh design language to the lineup. With a noticeably larger front grille, the 2019 Audi Q8 harkens back to the lines and shape of the original Quattro rally car from the 1980s. Unlike said rally car, the Audi Q8 comes standard with 20" wheels, but there are also available 22" wheels, as well.
Thankfully, the 2019 Audi Q8 has been improved in terms of technology since the '80s era Quattro, and it features all the latest in Audi's interior functionality in the form of two touchscreens with haptic and audio feedback, as well as a 12.3" Audi Virtual Cockpit TFT display behind the steering wheel.
The 2019 Audi Q8 also offers an available driver assistance package that features active lane departure warning, traffic sign recognition, and adaptive cruise control plus intersection assist.
In terms of power and performance, the all-new SUV packs a punch with a brand new 3.0L V6 TFSI with mHEV (mild Hybrid Electric Vehicle) that puts out 335 horsepower. Why add that mHEV? Well, that means the Q8 can recover energy while you're applying the brakes or coasting to a stop. It also means that the electric engine can help boost the engine for added power and performance.
When it comes to ride and handling, the 2019 Audi Q8's got you covered there, too. Opt for the optional Dynamic package and your Q8 will come equipped with air suspension and 4-wheel steering putting you in the supreme seat of comfort and control.
To find out more about the all-new Audi Q8, head down to your local Glenmore Audi dealer to speak to one of our experts. And make sure you book a test drive, too. You won't want to pass up on this one.