Published November 30, 2018
New Audi e-tron GT blows the roof of the L.A. Auto Show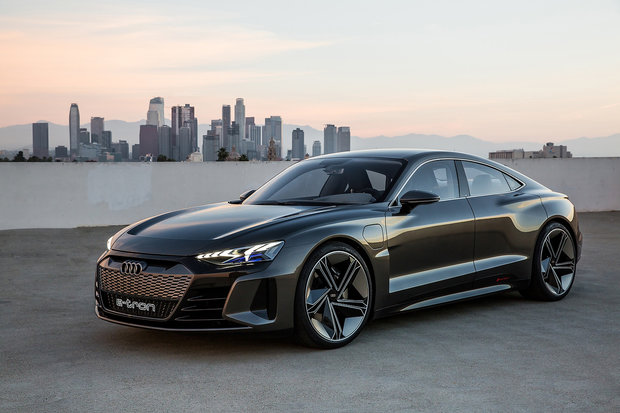 The Audi e-tron GT was the star of this week's L.A. Auto Show and attracted the attention of every media in attendance. We knew the Audi e-tron GT was coming to L.A., but no one was prepared for how gorgeous it turned out to be.
Following in the footsteps of the 2019 Audi e-tron Quattro all-electric SUV unveiled last September, the Audi e-tron GT is a premium luxury sedan that's powered by a fully-electric engine. The e-tron Quattro will take on models like the Tesla Model X and Mercedes-Benz EQC while the e-tron GT sedan has the Porsche Taycan and Tesla Model S in its sights.
A very advanced luxury EV
The e-tron GT is actually heavily influenced by the Taycan as both cars share a unique and very impressive 800-volt electrical system. This has a wide range of advantages starting with lightning-quick charging times. Indeed, the e-tron GT will be able to charge 80 % of its battery in about 20 minutes.
The battery in question, a 90-kWh unit, offers a total of 400 kilometers of range to Audi e-tron GT owners. That means that it's quick-charging capabilities allow it to gain over 300 kilometers of range in less than 20 minutes.
Power will be through the roof. The e-tron GT is expected to reach 100 km/h in less than 4.0 seconds. Total power output is rated at 590 horsepower, and as expected all-wheel drive is standard.
Inside, the e-tron GT is as stunning as it is outside. Taking several elements of the current Audi A8 and upcoming Q8, the e-tron GT features a ton of space and a beautifully executed cabin that has a modern yet ergonomic center console and dashboard.
The Audi e-tron GT is officially a concept vehicle, but Audi says it's 99-percent production ready. In other words, you can expect its stunning lines and mind-blowing technology to arrive basically unchanged at Glenmore Audi next year.