Published August 23, 2019
Say hello to the new Audi RS6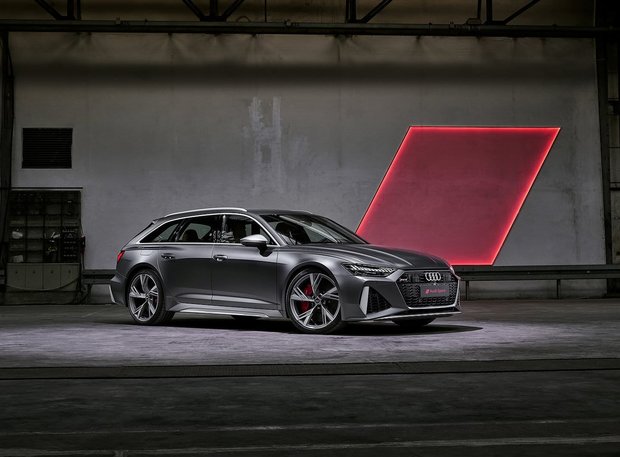 Are you as excited as we are? Judging by the attention the new Audi RS 6 from Audi Sport has received when it was announced it was coming to Canada, you might very well be more excited!
We can't blame you. The Audi RS 6 long stood as the aspirational Audi. In fact, from the moment it first broke cover back in 2002, fans, enthusiast and wagon lovers (there was a sedan also) lamented it's absence on our soil.
Rejoice my friends for today, the C8 Audi RS 6 Avant is finally here. And it is the most powerful, attractive, versatile and sophisticated Audi RS 6 Avant ever.
This newest RS 6 Avant from Audi Sport is drenched in the philosophy that has made Audi RS cars some of the most sought-after performance cars of all-time. That philosophy? "Performance, prestige and exclusiveness with full everyday practicality."
Performance comes from Audi Sport's 4.0-litre TFSI twin-turbocharged V8. Coupled with 48-volt mild hybrid technology, the RS 6's output is a mighty 592-horsepower and an incredible 590 lb.-ft. of torque. The V8 is mated to a slick and efficient 8-speed automatic, but that's only half of the story.
Beneath every great car from Audi Sport is the brand's legendary quattro AWD system. The system normally splits torque 40:60 however depending on drive modes and the driver, up to 70% of the power can be diverted to the front or up to 85% to the rear. As well, the wheel-selective torque control and quattro sport differential can shuffle power from side to side for maximum traction and performance.
The new Audi RS 6 Avant is fast – this is the understatement of the year. The 0-100 km/h sprint goes by in only 3.6 seconds. 200 km/h arrives in 12 seconds and top speed is electronically limited to 250 km/h. If you opt for the Dynamic Package, the family-hauler hits up to 305 km/h.
With the Audi RS 6 Avant, prestige is assured as it will stop onlookers in their tracks the moment they spot one. There is nothing else on the road like it today. And what about everyday practicality? As a station wagon, it can comfortably carry five occupants and a weekend's worth of gear on a trip to the cottage.
Is there a more capable, faster or more desirable car available today? Come and see one for yourself. You won't believe how incredible it looks in the flesh either.