Published October 30, 2018
The 2019 Audi R8 shines even brighter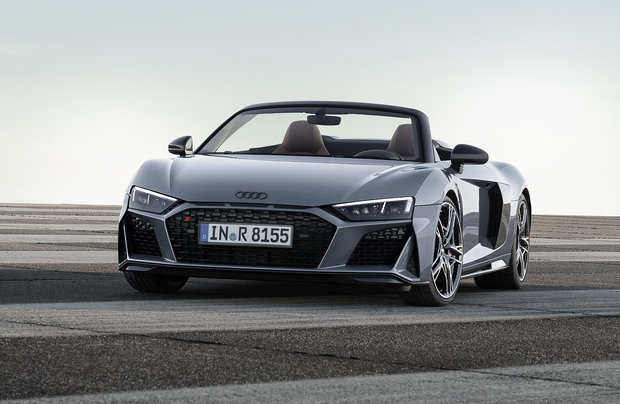 Audi's flagship model is getting a lot of updates for the 2019 model year, and although most would argue the R8 didn't need many improvements, they are sure to be welcomed by both current and aspiring owners. The new 2019 R8 has a new design that is bolder and more aggressive, and plenty of new performance features as well.
Not a new Generation
One thing before we get into the R8's improvements, it's important to note that this isn't a new-generation of the model. That will come in a few years since the current model was completely redesigned less than four years ago. It's therefore still fresh, and still worthy of sitting atop the Audi lineup.
On the other hand, we immediately notice the design changes made to the 2019 model. It has a more aggressive front-end with sharper, edgier bumpers, more defined wheel arches and round exhaust tips like in the old R8 V10. 20-inch wheels and a handful of other exterior changes are also part of the 2019 model which is easy to spot sitting next to the 2018 model.
Performance-wise, purists will be happy to know that the R8 keeps its mean and almost unique to the industry V10 engine. No, Audi hasn't moved to turbocharging a V8 for the R8 just yet.
Audi says the 2019 R8 will have more power, but it didn't get around to putting actual numbers on that claim. The current R8's V10 makes 532 horsepower out of the gate while the Plus model gets 602 hp.
Audi engineers improved the suspension of the 2019 Audi R8 and also tweaked the Quattro all-wheel drive system. They also improved the brakes which leads to a 5-feet decrease in stopping distance for the R8. The weight has been lowered as well.
Lighter, faster and more aggressive-looking, the 2019 Audi R8 keeps the soul of the current model and simply improves areas that still had room for improvement. Learn more about the Audi R8 today at Glenmore Audi.