Published August 31, 2017
Three things to know about the 2018 Audi SQ5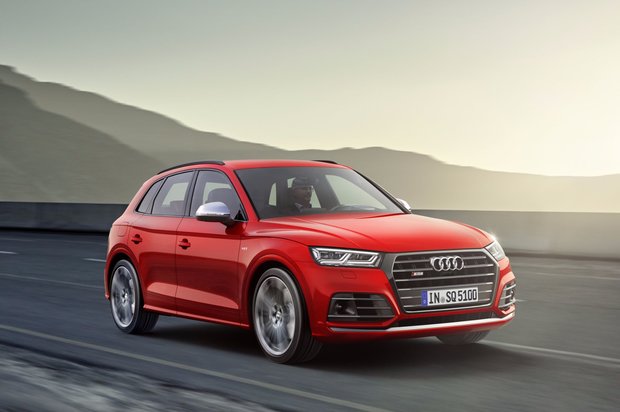 Audi vehicles are known for offering an unmatched blend of performance and refinement, and the new 2018 Audi Q5 is certainly one of the best examples of this reality. Indeed, the new-generation Q5 features a wide range of characteristics that allow it to stand out in the crowded compact luxury SUV segment.
That said, we have already covered the 2018 Q5 in another article. Here, we want to focus on the top-of-the-line Q5, the mighty 2018 Audi SQ5. Featuring a lowered suspension, gobs of power, and aggressive lines, the new 2018 Audi SQ5 is really in a league of its own when it comes to what it has to offer.
No other vehicle on the market like the 2018 Audi SQ5
The new Audi SQ5 is indeed unique, not just in its segment but also on the market. Starting at $ 62,190, the 2018 Audi SQ5 comes standard with heated front seats, a heated 3-spoke steering wheel with shift paddles, 20-inch wheels, an Audi navigation system with MMI, high beam assist, LED headlights and taillights, three-zone climate controls, a rear-view camera, a foot-activated power tailgate, and a panoramic sunroof.
There are two versions of the 2018 Audi SQ5, with the entry-level known as the Progressiv trim. If you want a fully-loaded model, you can opt for the Technik version which features everything you could ever want from a compact luxury sport utility vehicle in terms of features and amenities, all for just over $ 66,000.
Incredible power in the 2018 Audi SQ5
Now, having a lot of features is always nice, but if you opt for an Audi SQ5, it's because you also want a ton of power to go with all those amenities. In reality, you want an SUV that will give you all the space and comfort you want, but with the added benefit of being able to surprise quite a few sports and performance cars out there on the road.
With a turbocharged, 3.0-liter V6 engine that delivers 354 horsepower and 369 pound-feet of torque, that's exactly what you get with the brand new 2018 Audi SQ5. Indeed, Audi's performance SUV reaches 100 km/h in just 5,3 seconds, and an 8-speed Tiptronic transmission makes sure that power is perfectly optimized when sent to all four wheels. And with various driving modes on tap, you can decide how you want your SQ5 to behave.
To learn more about the 2018 Audi SQ5, contact us today at Glenmore Audi.