Get the 2019 Audi A5 Sportback Today!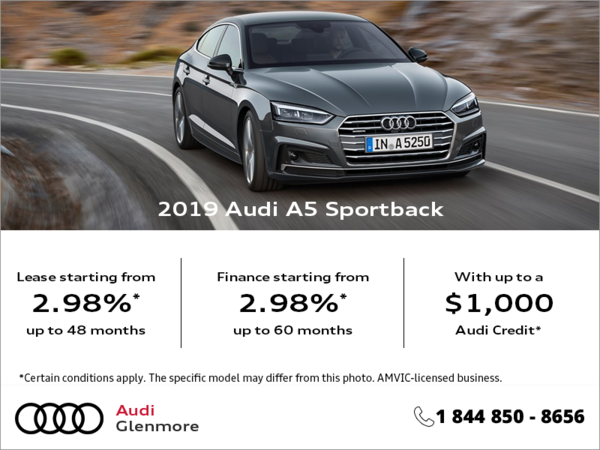 Expired
Lease the 2019 Audi A5 Sportback starting from 2.98% up to 48 months.
OR finance from 2.98% up to 60 months.
PLUS, get up to $1,000 Audi Credit on select models.
Some conditions may apply.
This offer ends on July 31st, 2019.
Book your test drive today!
AMVIC-licensed business.
© 2019 Audi Canada.
*Limited time lease and finance offers available through Audi Finance on approved credit, on select new and unregistered A5 Sportback models. Dealer may sell/lease for less. Starting rates are advertised; rates vary and may be higher for certain models. European models shown with optional equipment that may not be available at the time of purchase. Offers end July 31, 2019 and are subject to change or cancellation without notice. Dealer order/trade may be necessary.
† Audi Credit to be applied as a discount to the MSRP before taxes on purchase or lease of 2019 A5 Sportback models. Dealer participation is required.
Lease example: 2019 A5 Sportback 45 TFSI quattro Komfort S tronic with base MSRP of $51,295 (including $ 2,095 freight and PDI), at 2.98% APR for 48 month term with $505 monthly payment. $6,000 down payment or equivalent trade-in, a security deposit of approximately one month's lease payment and first monthly payment are due at lease inception. PPSA, licence, insurance, registration, options, duties, any dealer or other charges and other applicable taxes are extra. See dealer for details. Total lease obligation: $30,264 (excluding applicable taxes). Kilometre allowance of 16,000/year; charge of $0.30/km for excess kilometres.
Finance example: 2019 A5 Sportback 45 TFSI quattro Komfort S tronic with base MSRP of $51,295 (including $2,095 freight and PDI), at 2.98% APR for 60 months, with monthly payments of $913 per month. A down payment of $6,000 or equivalent trade-in is due at signing. PPSA, licence, insurance, registration, options, duties any dealer or other charges and applicable taxes are extra. See dealer for details. Cost of borrowing is $3,944 for a total obligation of $60,777
ON: Additional fees and levies apply as follows: $100 air conditioning levy, $29 EHF, $10 OMVIC fee $58 PPSA fee and $395 dealer admin fee, for a base MSRP of $51,887. For leases, monthly payments of $513 and total lease obligation of $30,618. For financing, monthly payments of $920 and cost of borrowing of $3,702 for a total obligation of $61,205
AB: Additional fees and levies apply as follows: $100 air conditioning levy, $4/tire recycling levy and $6.25 AMVIC fee for a base MSRP of $51,417. For leases, monthly payments of $507 and total lease obligation of $30,337. For financing, monthly payments of $841 and cost of borrowing of $3,529 for a total obligation of $56,467
QC: Additional fees and levies apply as follows: $100 air conditioning levy and $46 registration fee to the RDPRM for a base MSRP of $51,441. For leases, monthly payments of $507 and total lease obligation of $30,351. For financing, monthly payments of $928 and cost of borrowing of $3,696 for a total obligation of $61,691
MB: Additional fees and levies apply as follows: $100 air conditioning levy for a base MSRP of $51,395. For leases, monthly payments of $507 and total lease obligation of $30,324. For financing, monthly payments of $910 and cost of borrowing of $3,659 for a total obligation of $60,606
Take Advantage
of this offer
Don't miss your chance